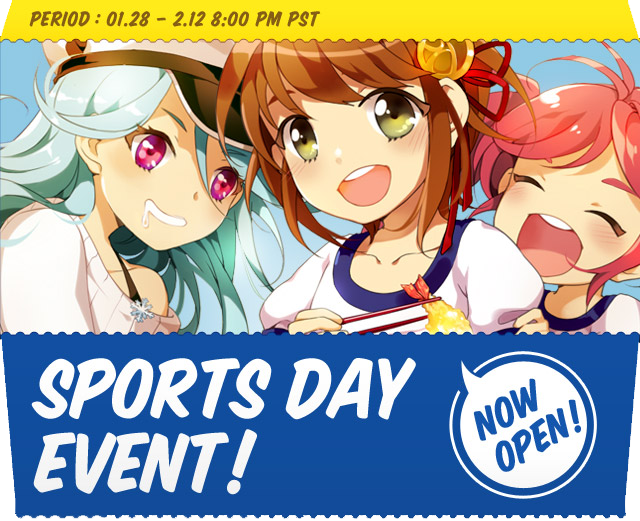 Event Explore area

New explore area opened!
2 Sports Day Zones have been opened.
In each zone, you have a chance to get Lunch Boxes through exploration.
Boss Cards

These bosses are only obtainable by accumulating Lunch Boxes (see below for their exact amount).
Equipment from Sports Day cards have a higher growth rate from +4 to +5.
Item Sets
Note: You can only get the +5 effect by using a Special Upgrade Card.
Set effect: Skill activation chance increased 5%.
| Item Names | +1 | +2 | +3 | +4 | +5 |
| --- | --- | --- | --- | --- | --- |
| Nana's Hairband | +100 AP | +600 AP | +1100 AP | +1600 AP | +2100 AP |
| Yuki's Pompom | +200 HP | +400 HP | +800 HP | +1600 HP | +3200 HP |
| Natasha's Sportsuit | +1% skill damage | +2% skill damage | +4% skill damage | +8% skill damage | +16% skill damage |
Rewards

Accum. Lunch Boxes

Rewards

1,000

Party Potion x1

FP x50

2,000

Party Potion x1

FP x100

4,000

Party Potion x1

FP x150

6,000

Party Potion x1

Silver x1,000

8,000

Party Potion x1

FP x200

10,000
Sports Day Nana
12,000
Silver x2,000
14,000
Sports Day Natasha
16,000
Revive Potion x1

FP x250

18,000
Revive Potion x1

Silver x4,000

20,000
 Revive Potion x1

 FP x300

22,000
 Sports Day Nana
24,000
 Silver x8,000


 Sports Day Yuki

26,000
 Sports Day Natasha
28,000
 FP x350
30,000
 Silver x16,000
32,000
 FP x400
34,000
 Sports Day Nana
36,000
 Silver x32,000


Sports Day Yuki

38,000
 Sports Day Natasha
40,000
 FP x450
42,000
 Silver x64,000
44,000
 FP x500
46,000
 FP x550
48,000
 Silver x128,000
50,000
 Sports Day Nana
60,000
 Sports Day Yuki
70,000

 Silver x256,000

Sports Day Natasha