Options are a card factor that increase the devil's capabilities, making every copy unique in its own way. Lower rank cards are much more likely to obtain weak options, while higher rank cards may get the strongest ones. There are several observations to take into account when it comes to options:
Common devils have no options, except for Rank 6 and Rank 7 cards.
Rank 6 non Unique devils have 2 fixed options, and won't change regardless of their rarity or Option Recontract. Search for the card to know them.
Uncommon Cards may obtain up to 2 options (Rank 7 Uncommon have 3 options). Rare cards from 3 up to 4 (Rank 7 Rare cards always have 4 options).
Unique cards may obtain from 1 up to 4 options.
Hell Bosses have one fixed option each. Search for the card to know which.
Evolving a devil resets its options. This means the card will get new ones.
The higher the rarity, the stronger the options.
Option Recontract
Edit
Option Recontracts can be done through the Upgrade menu on the Recontract page, allowing you to change only the random Options of any Uncommon or Rare devil card (this means the fixed options of a card are not affected). This will Recontract all of a card's random Options. The number of Options can decrease for cards under Rank 5.
Note: You cannot Recontract Options on Common or Unique cards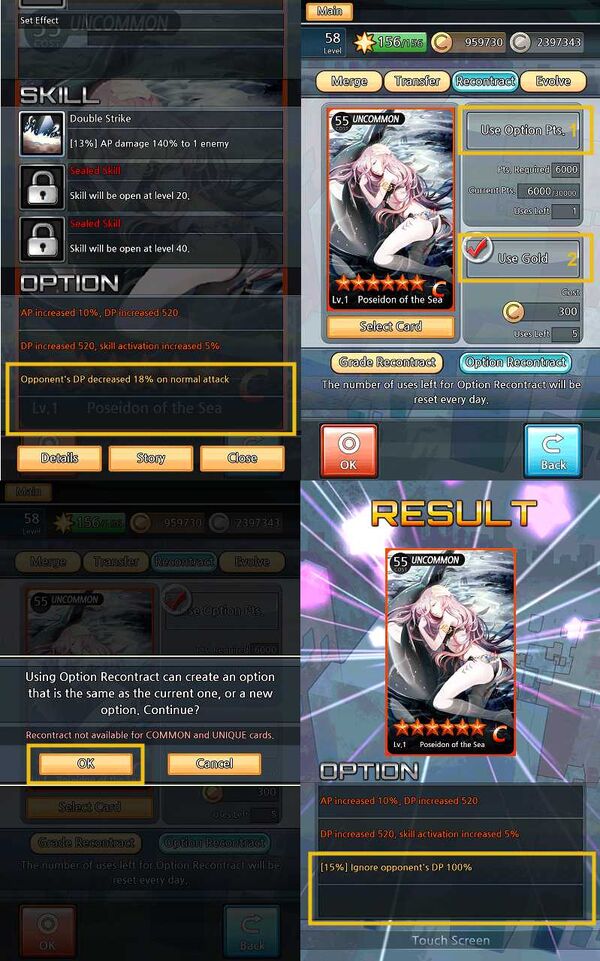 There are 2 Ways to Recontract:
Using Option Points: You can obtain Option Points in the new dungeon Closed City.

Closed City has 4 Zones separated by difficulty and the amount of obtainable points.
Limited to 2 times each day.

Using Gold: You can use Gold for Option Recontracts.

Limited to 5 times each day.
Regular Option List
Edit
| Rarity | Type | Effect |
| --- | --- | --- |
| Common | Passive | AP increased 250 |
| Common | Passive | AP increased 500 |
| Uncommon | Passive | AP increased 750 |
| Rare | Passive | AP increased 1000 |
| Rare | Passive | AP increased 1250 |
| Unique | Passive | AP increased 1500 |
| Common | Passive | AP increased 5% |
| Common | Passive | AP increased 8% |
| Uncommon | Passive | AP increased 11% |
| Rare | Passive | AP increased 14% |
| Rare | Passive | AP increased 17% |
| Unique | Passive | AP increased 20% |
| Common | Passive | HP increased 500 |
| Common | Passive | HP increased 1000 |
| Uncommon | Passive | HP increased 1500 |
| Rare | Passive | HP increased 2000 |
| Rare | Passive | HP increased 2500 |
| Unique | Passive | HP increased 3000 |
| Common | Passive | HP increased 5% |
| Common | Passive | HP increased 10% |
| Uncommon | Passive | HP increased 15% |
| Rare | Passive | HP increased 20% |
| Rare | Passive | HP increased 25% |
| Unique | Passive | HP increased 30% |
| Common | Passive | DP increased 200 |
| Common | Passive | DP increased 400 |
| Uncommon | Passive | DP increased 600 |
| Rare | Passive | DP increased 800 |
| Rare | Passive | DP increased 1000 |
| Unique | Passive | DP increased 1200 |
| Common | Passive | Critical increased 2% |
| Common | Passive | Critical increased 4% |
| Uncommon | Passive | Critical increased 6% |
| Rare | Passive | Critical increased 8% |
| Rare | Passive | Critical increased 10% |
| Unique | Passive | Critical increased 14% |
| Common | Passive | Critical damage increased 10% |
| Common | Passive | Critical damage increased 15% |
| Uncommon | Passive | Critical damage increased 20% |
| Rare | Passive | Critical damage increased 25% |
| Rare | Passive | Critical damage increased 30% |
| Unique | Passive | Critical damage increased 35% |
| Common | Passive | Skill activation increased 1% |
| Common | Passive | Skill activation increased 2% |
| Uncommon | Passive | Skill activation increased 3% |
| Rare | Passive | Skill activation increased 4% |
| Rare | Passive | Skill activation increased 5% |
| Unique | Passive | Skill activation increased 6% |
| Common | Active | Damage increased to opponent of a higher rank 10% |
| Common | Active | [5% chance] Opponent's defense option ignore |
| Common | Active | [6% chance] Opponent's defense option ignore |
| Uncommon | Active | [7% chance] Opponent's defense option ignore |
| Rare | Active | [8% chance] Opponent's defense option ignore |
| Rare | Active | [10% chance] Opponent's defense option ignore |
| Unique | Active | [10% chance] Opponent's defense option ignore |
| Common | Active | Skill damage increased 10% |
| Common | Active | Skill damage increased 12% |
| Uncommon | Active | Skill damage increased 14% |
| Rare | Active | Skill damage increased 16% |
| Rare | Active | Skill damage increased 18% |
| Unique | Active | [10% chance] Normal attack damage increased 12% |
| Common | Active | [10% chance] Normal attack damage increased 14% |
| Uncommon | Active | [10% chance] Normal attack damage increased 16% |
| Rare | Active | [10% chance] Normal attack damage increased 18% |
| Rare | Active | [10% chance] Normal attack damage increased 20% |
| Unique | Active | Opponent's DP 200 ignore |
| Common | Active | Opponent's DP 400 ignore |
| Uncommon | Active | Opponent's DP 600 ignore |
| Rare | Active | Opponent's DP 800 ignore |
| Rare | Active | Opponent's DP 1000 ignore |
| Rare? | Active | Ignore opponent's DP 1200 |
| Common | Active | [10% chance] Opponent's DP 20% ignore |
| Common | Active | [10% chance] Opponent's DP 40% ignore |
| Uncommon | Active | [10% chance] Opponent's DP 60% ignore |
| Rare | Active | [10% chance] Opponent's DP 80% ignore |
| Rare | Active | [10% chance] Opponent's DP 100% ignore |
| Unique | Active | Damage to otherworldly attribute increased 30% |
| Unique | Active | Damage to celestial attribute increased 30% |
| Unique | Active | Damage to underworld attribute increased 30% |
| Unique | Active | Damage increased 10% when opponent's AP is lower |
| Unique | Active | Damage increased 10% when opponent's AP is higher |
| Common | Active | Damage increased 500 to opponent of a higher rank |
| Rare | Active | Damage increased 500 to opponent of a lower rank |
| Unique | Active | Damage increased 500 to opponent of the same rank |
| Unique | Active | Damage increased 10% when health is below 50% |
| Unique | Active | Damage increased 20% when health is below 15% |
| Unique | Active | Damage to otherworldly attribute increased 500 |
| Unique | Active | Damage to celestial attribute increased 500 |
| Unique | Active | Damage to underworld attribute increased 500 |
| Unique | Active | Damage increased 10% to opponent's UNIQUE or RARE card |
| Unique | Active | Damage increased 500 to opponent's UNIQUE or RARE card |
| Unique | Active | Damage increased 10% to opponent's UNCOMMON or COMMON card |
| Unique | Active | Damage increased 500 to opponent's UNCOMMON or COMMON card |
| Common | Reaction | Damage reduced 20% from an opponent of a higher rank |
| Common | Reaction | [10% chance] Opponent's normal attack ignore |
| Unique | Reaction | [11% chance] Opponent's normal attack ignore |
| Uncommon | Reaction | [12% chance] Opponent's normal attack ignore |
| Rare | Reaction | [13% chance] Opponent's normal attack ignore |
| Rare | Reaction | [15% chance] Opponent's normal attack ignore |
| Common | Reaction | [10% chance] Opponent's skill attack ignore |
| Unique | Reaction | [11% chance] Opponent's skill attack ignore |
| Uncommon | Reaction | [12% chance] Opponent's skill attack ignore |
| Rare | Reaction | [13% chance] Opponent's skill attack ignore |
| Unique | Reaction | [15% chance] Opponent's skill attack ignore |
| Common | Reaction | Opponent's damage reduced 10% |
| Common | Reaction | Opponent's damage reduced 11% |
| Uncommon | Reaction | Opponent's damage reduced 12% |
| Rare | Reaction | Opponent's damage reduced 13% |
| Unique | Reaction | Opponent's damage reduced 15% |
| Common | Reaction | Opponent's normal attack damage reflected 10% |
| Common | Reaction | Opponent's normal attack damage reflected 12% |
| Uncommon | Reaction | Opponent's normal attack damage reflected 14% |
| Rare | Reaction | Opponent's normal attack damage reflected 16% |
| Rare | Reaction | Opponent's normal attack damage reflected 20% |
| Common | Reaction | Opponent's skill attack damage reflected 10% |
| Common | Reaction | Opponent's skill attack damage reflected 12% |
| Uncommon | Reaction | Opponent's skill attack damage reflected 14% |
| Rare | Reaction | Opponent's skill attack damage reflected 16% |
| Rare | Reaction | Opponent's skill attack damage reflected 20% |
| Common | Reaction | Opponent's normal attack damage reduced 10% |
| Common | Reaction | Opponent's normal attack damage reduced 12% |
| Uncommon | Reaction | Opponent's normal attack damage reduced 14% |
| Rare | Reaction | Opponent's normal attack damage reduced 16% |
| Rare | Reaction | Opponent's normal attack damage reduced 20% |
| Common | Reaction | Opponent's skill attack damage reduced 10% |
| Common | Reaction | Opponent's skill attack damage reduced 12% |
| Uncommon | Reaction | Opponent's skill attack damage reduced 14% |
| Rare | Reaction | Opponent's skill attack damage reduced 16% |
| Rare | Reaction | Opponent's skill attack damage reduced 20% |
| Common | Reaction | Opponent's AP reduced 2% on attack |
| Common | Reaction | Opponent's AP reduced 4% on attack |
| Uncommon | Reaction | Opponent's AP reduced 6% on attack |
| Rare | Reaction | Opponent's AP reduced 8% on attack |
| Rare | Reaction | Opponent's AP reduced 10% on attack |
| Rare | Reaction | Opponent's AP reduced 12% on attack |
| Common | Reaction | Opponent's DP reduced 5% on normal attack |
| Common | Reaction | Opponent's DP reduced 7% on normal attack |
| Uncommon | Reaction | Opponent's DP reduced 9% on normal attack |
| Rare | Reaction | Opponent's DP reduced 11% on normal attack |
| Rare | Reaction | Opponent's DP reduced 15% on normal attack |
| Common | Reaction | Opponent's DP reduced 5% on skill attack |
| Common | Reaction | Opponent's DP reduced 7% on skill attack |
| Uncommon | Reaction | Opponent's DP reduced 9% on skill attack |
| Rare | Reaction | Opponent's DP reduced 11% on skill attack |
| Rare | Reaction | Opponent's DP reduced 15% on skill attack |
| Uncommon | Reaction | Opponent's DP reduced 10% when attacked |
| Common | Reaction | AP increased 5% when attacked |
| Common | Reaction | AP increased 7% when attacked |
| Uncommon | Reaction | AP increased 9% when attacked |
| Rare | Reaction | AP increased 11% when attacked |
| Rare | Reaction | AP increased 15% when attacked |
| Common | Reaction | [10% chance] Damage reflected 50% |
| Common | Reaction | [10% chance] Damage reflected 60% |
| Uncommon | Reaction | [10% chance] Damage reflected 70% |
| Rare | Reaction | [10% chance] Damage reflected 80% |
| Rare | Reaction | [10% chance] Damage reflected 90% |
| Unique | Reaction | Highly rated opponents than myself when I got to the AP 20% increase in damage |
| Unique | Reaction | Damage from otherwordly attribute reduced 30% |
| Unique | Reaction | Damage from celestial attribute reduced 30% |
| Unique | Reaction | Damage from underworld attribute reduced 30% |
| Unique | Reaction | |
| Unique | Reaction | Same rank reduced 30% damage |
| Unique | Reaction | HP recovered 500 when attacked by opponent of the same rank |
| Unique | Reaction | [2% chance] All attacks ignore the relative |
| Rare | Reaction | Damage reflected 10% to all enemies when HP is less than 50% |
| Unique | Reaction | Damage reduced 30% from opponent's Unique and RARE cards |
| Unique | Reaction | Damage reduced 30% from opponent's UNCOMMON and COMMON cards |
| Unique | Reaction | Damage reduced 30% if opponent's AP is higher |
| Unique | Reaction | Damage reduced 30% if opponent's AP is lower |
| Unique | Reaction | HP recovered 500 when attacked by otherworldly attribute |
| Unique | Reaction | HP recovered 500 when attacked by celestial attribute |
| Unique | Reaction | HP recovered 500 when attacked by underworld attribute |
| Rare | Reaction | Opponent's otherworldly attribute damage reflected 30% |
| Rare | Reaction | Opponent's celestial attribute damage reflected 30% |
| Rare | Reaction | Opponent's underworld attribute damage reflected 30% |
| Rare | Reaction | Damage reflected 20% to all enemies when HP is less than 15% |
| Unique | Reaction | AP increased 3% to party when attacked |
| Unique | Reaction | AP increased 5% to party when attacked |