Luel

"Contractor, who is Hora, the person you previously mentioned? It's bugging me."

Obtained From:
Story reward for Chapter 37
She was the official devil of Hora who called himself the "Invincible Contractor," but she lost her power and memory after Hora was defeated by Amaterasu. Although she still has a great amount of power, my heart is heavy whenever I see her because she reminds me of Hora. Since she couldn't even remember her own name, I gave her back her original name.
Leader Bonus

AP +5000 to Leader card
Fixed Options
AP +1100, critical chance +8%
DP +520, skill activation +5%
Skill
Blood Hell
[8%] AP damage 300% to 1 enemy, HP reduced 2000
Level 1
Level 40
AP
DP
HP
TP
AP
DP
HP
TP

6615
-
9500
22730
13245
-
22370
48860
There is a second version of this card with different flavored text.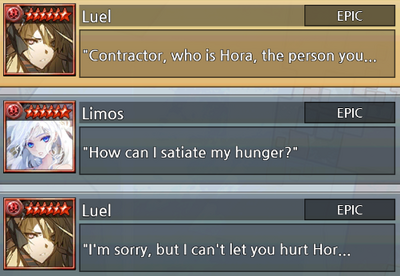 Community content is available under
CC-BY-SA
unless otherwise noted.