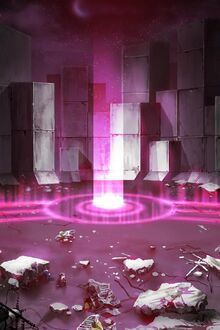 "A lair for powerful devils. The darkness is very dense, and nobody who has entered has ever come out alive, so it's blocked by huge walls. Clear records reset every day."
"You can obtain powerful items and skills."
Hell is a zone made specifically to fight certain bosses, as there is no exploration in any dungeon. Every first clear unlocks the next zone of Hell, allowing to fight the next boss. Clear records reset every day.
Just as any other Boss card, Hell bosses can be obtained by defeating them. Some of them have, aditionally, a unique fixed option, and an unique skill each (which is unlocked when the devil reaches level 40).
If you clear a Hell dungeon 100 times and achieve a MASTER clear, the boss card is 100% guaranteed to drop (sent to gift box).
Dungeon
Light Cost
Boss
Options
AP
DP
HP

Outskirt of Hell Barrier

15
Raguel
2,500
0
31,500

Inside of Hell Barrier

15
Iblis
4,000
0

41,500

Hell Entrance

15
Beelzebub
8,000
0
80,000

Hell Zone 1

25
Baphomet

Damage from Celestial attribute +300%

Skill activation +60%

14,000
0
200,000

Hell Zone 2

25

Damage from Otherworldly attribute +300%

Skill activation +60%

15,000
635
200,000

Hell Zone 3

25
Cthugha

Damage from Underworld attribute +300%

Skill activation +60%

16,000
0
200,000

Hell Zone 4

25
Azazel

Damage from UNIQUE, RARE cards +300%

Damage from opponent decreased 70%

Skill activation +60%

14,000
0
150,000

Hell Zone 5

25
Deus ex Machina
DP +30,000.
15,000
0
150,000

Hell Zone 6

25
Belial

Damage from UNCOMMON, COMMON cards +300%

14,000
0
150,000

Damage from opponent decreased 70%

Skill activation +60%

Hell Zone 7

25
Angra Mainyu

[50%] HP recovered 5000 on attack

Skill activation +60%

17,000
0
150,000

Hell Zone 8

25
Shub-Niggurath

Damage from opponent decreased 70%

Skill activation +60%

17,000
0
120,000

Hell Zone 9

25
Lillith

[100%]  HP recovered 2000 on attack

Skill activation +60%

15,000
330
180,000

Hell Zone Final

25
Yamatano Orochi

[100%] Ignore opponent's defense option

Skill damage +50%

Damage from opponent -30%

Skill activation +60%

20,000
0
200,000
Hell Catacombs Floor 1
35
Sin

Opponent's normal attack damage +50%

Opponent's skill attack damage -90%

30,000
0
480,000
Hell Catacombs Floor 2
35
Shamash

Opponent's skill attack damage -50%

Opponent's normal attack damage -90%

34,000
0
576,000
Hell Catacombs Floor 3
35
Kyuki

Ignore all damage from COMMON, UNCOMMON and RARE cards

Damage from UNIQUE cards +300%

50,000
0
500,000
Hell Catacombs Floor 4
35
Samyaza

Skill activation +100%

Ignore opponent's all defense options

[50%] Resurrect with 500000 HP upon death by any attack. (Max 5 times)

60,000
0
1,000,000

Hell Catacomb-Luel

35
Restored Luel

Critical Chance 50%

[50%] Act one more time if skill is not activated

50,000
0
1,000,000
Hell Catacomb-Gov. Forces
35
Ex-Government Agents

AP +10% on attack

[50%] Resurrect with 500000 HP when killed

65,000
0
1,500,000
Hell Catacomb-Azazel
35
Strawberry Azazel

Skill activation +50%

Skill activation +5% on attack

50,000
0
140,000
Hell Catacomb-Yuki
35
Innocent Yuki

10% damage reflected to enemy when attacked

Skill activation +10% when attacked

DP-1000 on skill attack

50,000
30,000
140,000