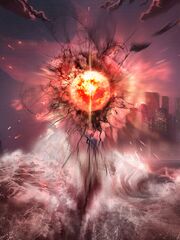 "The darkness here appeared out of the blue. Explore this place and you may be able to acquire special EXP cards. Clear records reset at every opening."
"Dungeon available at certain times. Skill, Silver, and Evo Point cards can be obtained."
Expanded Darkness is a dungeon that is available at certain times of the day, and remain available during 1 hour each. Contractors can explore dungeons that award special cards.
Clear records reset when the timer ends.
Explore
Level
Name
Steps
Light Cost
Rewards
5
Darkness Fell: EXP Cards
15
30
Health Potion x2
Special EXP Card
10
Darkness Fell: EXP Cards
20
40
Health Potion x5
Special EXP Card
15
Darkness Fell: EXP Cards
25
50

Special EXP Card

Special EXP Card
5
Darkness Fell: Points Cards
15
30
Health Potion x1
Special Points Card
10
Darkness Fell: Points Cards
20
40
Health Potion x2
Special Points Card
15
Darkness Fell: Points Cards
25
50
Special Points Card
Special Points Card
5
Darkness Fell: Silver Cards
15
30
 Health Potion x1
Special Silver Card
10
Darkness Fell: Silver Cards
20
40
 Health Potion x2
Special Silver Card
15
Darkness Fell: Silver Cards
25
50
 Special Silver Card
 Special Silver Card
Darkness Times
| | | | | | | |
| --- | --- | --- | --- | --- | --- | --- |
| GMT/UTC | 10:00 | 15:00 | 18:00 | 23:00 | 1:00 | 6:00 |
| PDT | 3:00 | 8:00 | 11:00 | 16:00 | 18:00 | 23:00 |
| PST | 2:00 | 7:00 | 10:00 | 15:00 | 17:00 | 22:00 |
| EDT | 6:00 | 11:00 | 14:00 | 19:00 | 21:00 | 2:00 |
| EST | 5:00 | 10:00 | 13:00 | 18:00 | 20:00 | 1:00 |
| DMT (GMT +9) | 0:00 | 3:00 | 8:00 | 10:00 | 15:00 | 19:00 |
| GMT +8 | 2:00 | 7:00 | 9:00 | 14:00 | 18:00 | 23:00 |
| GMT +7 | 1:00 | 6:00 | 8:00 | 13:00 | 17:00 | 22:00 |
| GMT +1 | 0:00 | 2:00 | 7:00 | 11:00 | 16:00 | 19:00 |
| BRST (GMT -2) | 4:00 | 8:00 | 13:00 | 16:00 | 21:00 | 23:00 |
| BRT (GMT -3) | 3:00 | 7:00 | 12:00 | 15:00 | 20:00 | 22:00 |