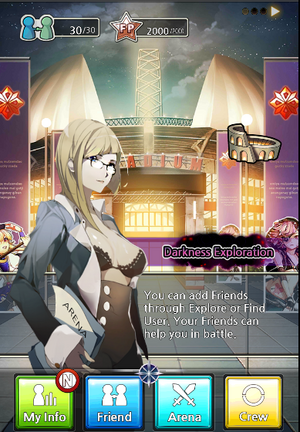 You can access it from Arena Screen (the leftmost screen).
Darkness Exploration Rewards will different depening on:

Exploration Devil / Exploration Area / Exploration time.
Check the devil and area before exploring darkness.
For Example: If you explore Closed City with a Rank 3 devil, you will not receive rewards if the devils dies while exploring.

When the exploration is complete you can select which rewards get sent to your Gift Box.

If you Gift Box is full, a warning message will display.
※ If you sent a devil on a Darkness Exploration just before maintenance we will refund the Silver spent because of the system change.
Darkness Exploration Entrance Cost Table
| Area | 1 hour | 3 hours | 7hours | 12 hours |
| --- | --- | --- | --- | --- |
| Ruined Tokyo : Zone 1  | 10,000 | 15,000 | 20,000 | 25,000 |
| Ruined Tokyo : Zone 2 | 20,000 | 30,000 | 40,000 | 50,000 |
| Closed City | 80,000 | 120,000 | 160,000 | 200,000 |
| Chaos Sphere | 160,000 | 240,000 | 320,000 | 400,000 |
| Core of Origin | 40,000 | 60,000 | 80,000 | 100,000 |
Darkness Exploration Reward Table
Area
Card Reward
Resource Reward
Item Reward
Ruined Tokyo : Zone 1
1* ~ 3* Rotation Boss
5,000 ~ 12,500 Silver
Health Potion
Party Potion
Revive Potion
Light Potion
Devil's Perfume
Transfer Potion
Summon Ticket
Recontract Ticket
Ruined Tokyo : Zone 2
4* ~ 5* Rotation Boss
10,000 ~ 25,000 Silver
Closed City
Closed City Boss
40,000 ~ 100,000 Silver
500 ~ 5,000 Option Point
Chaos Sphere
Chaos Sphere Boss
3* ~ 7* Ingredient
80,000 ~ 200,000 Silver
Core of Origin
Core Reward
20,000 ~ 50,000 Silver